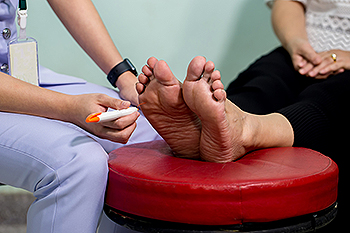 Several chronic diseases that affect the feet – such as diabetes, peripheral artery disease (PAD), and Raynaud's disease – can lead to a severe deterioration of the tissues that causes gangrene. When blood circulation to an area of the body, such as the feet or legs, is blocked, the tissue breaks down and eventually dies. Symptoms include coldness and numbness; pain, redness, and swelling; a foul odor emanating from the affected area; and discoloration of the skin. If left untreated, gangrene may lead to amputation and can sometimes be fatal. Treatments include antibiotics, removal of dead tissue, hyperbaric oxygen therapy, and removal of the blocked artery, depending on age, physical condition, and severity of the case. If you have any of the conditions listed above, and especially if you are experiencing these symptoms, it is strongly suggested that you consult a podiatrist as quickly as possible for an examination, diagnosis, and treatment plan. 
When dealing with systemic disease of the feet, it is extremely important to check the affected areas routinely so that any additional problems are caught quickly.  If you have any concerns about your feet and ankles contact Dr. Eddy Caldwell from Foot Care of Northeast Arkansas, P.A.. Our doctor will assist you with all of your podiatric needs.
Systemic Diseases of the Feet
Systemic diseases affect the whole body, and symptoms usually are displayed in the feet. This condition can make a patient's ability to walk unbearable.  Systemic diseases include gout, diabetes mellitus, neurological disorders, and arthritis.
Gout – is caused by an excess of uric acid in the body. Common symptoms include pain, inflammation, and redness at the metatarsal/phalangeal joint of the base big toe. Gout can be treated by NSAIDs to relieve pain and inflammation, and other drugs that lower the acid levels in the body.
Diabetes mellitus – is an increase in the level of blood sugar that the body cannot counteract with its own insulin. Failure to produce enough insulin is a factor in Diabetes.
Diabetes of the Feet
Diabetic Neuropathy – may lead to damaged nerves and affect the feet through numbness and loss of sensation.
Peripheral Vascular Disease – can restrict the blood flow to the feet, and often times lead to amputation of the feet. 
If you have any questions please feel free to contact our office located in Jonesboro, AR . We offer the newest diagnostic and treatment technologies for all your foot and ankle needs.
Read more about Systemic Diseases of the Foot